Therapy, Safety, and Spa-Like Luxury in Your Home
Start Feeling Better Today
Why Get a Walk-In Bathtub?
Be Able to Bath in a Safer Bathroom
Experience Spa Like Bath Experience
Easy Installation Process in Your Existing Bathroom
Affordable Financing, Rebates for Qualifying Individuals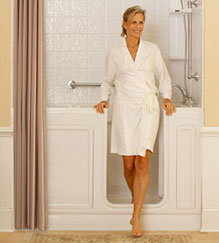 Affordable Luxury in Your Home
Get a Walk-In Bathtub custom fit to your existing bathroom. Enjoy the massaging bubbles, water jets and more. Opt for a basic walk-in tub or go for a more luxurious tub with spa-like features that you can finance. Please complete the form to find out if you qualify now.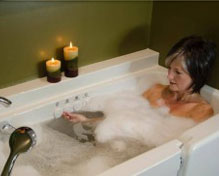 Fast, Professional, Courteous Service
The installation of a Walk-In Bathtub is performed by experienced professionals and is quick and painless. Most Walk-In Baths are installed in less than a week. Walk-In Tub installers always aim to be clean and courteous, and make sure you are completely satisfied with your new Walk-In Bathtub.
Walk-in Bathtubs
Why Should I Consider a Walk-in Bathtub?
As you get older, mobility becomes an issue, especially when getting in and out of bathtub. A traditional tub requires someone to lift their legs up and over a side to get into. Sounds easy for most people, but for seniors who have trouble simply walking, lifting their legs into the tub is quite the challenge. With a walk-in tub, a door can be swinged open and as the name suggests, you simply, walk into the bathtub.

Additional benefits of a walk-in tub includes handrails, seats and textured pads on the tub floor to help prevent slipping inside the bathtub. The walk-in bathtubs do not have shower doors which helps decrease the chance of a bad fall. Seniors sometimes put their weight on shower doors to help them maintain balance while getting in and out of the bathtub. Shower doors are not strong enough to withstand the weight of people leaning their whole weight.


What Do Walk-in Bathtub Cost?
As with cars, there are many different models and manufactuers of walk-in bathtubs. The walk-in tubs can cost anywhere from $3,000 to $10,000 or more after installation. Generally a walk-in bathtub requires a professional plumber to install. The costs will vary depending on if you pick up a basic walk-in tub from a home improvement store such as Home Depot/Lowes or if you go with the more well known brands such as Sfafe Step, Premier, Jacuzzi or American Standard. The latter brands tend to provide more features and options, hence, they typically are the ones in the upper range when it comes to cost.


What Are Drawbacks of Walk-in Bathtub?
The cost is an obvious drawback. The other main drawback is that a person has to enter the tub and close the door before turning on the water. This might led to a feel seconds of discomfort until you find a comfortable temperature. Conversely, you have to drain all the water prior to leaving the bathtub as well. Different walk-in tubs will have different drains, some may be slower than others.

One of the biggest cons of getting a walk-in tub installed is that since these tubs are large in size and take up a lot of water, sometimes a larger water heater has to be put in place in order to have enough hot water for the tub.